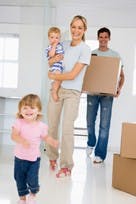 There are many things I can say about the high quality of service I provide to my home seller and home buyer clients, but probably none would be as credible as testimonials from some of my recent clients themselves.
So please take a moment to read the following testimonials. I hope they indicate my experience and integrity, as well as make it clear how much I enjoy helping people with their real estate needs.
I would be happy to email you additional testimonials if you are interested.
---
"We had a great experience when we bought a house with Kristen in 1999 and she worked hard when we sold our house in early 2004, especially as we only had a two month window to sell before heading out of Seattle on an extended trip. When the time came to buy again in Seattle, we did not hesitate to return to Kristen for our real estate needs. Kristen worked hard to find a house which was handicapped accessible, within driving distance from our daughter's school, had plenty of office space, had a nice yard and was within our price range. A tall order! However, she found exactly that. Additionally she led us smoothly through the offer process, the inspection report and even brought the closing documents to our apartment, for signing. Absolutely recommended, provided great service all through the process of finding and buying a home."
– Gordon and Kristen Scott
---
"As a first time homebuyer in an economic downturn, it was hard to make the jump to home ownership from renting. I had a lot to learn about the process and the commitment.
Kristen Cramer had helped my mom get into a home when we had first moved to Washington. I chose Kristen after seeing how she had kept my mom's best interests paramount.
Kristen understood my taste almost immediately. It was so nice to have confidence in letting Kristen do the looking for me. When we were at properties, Kristen was very considerate. She let me form my own opinions. When I needed information, she was spot on. I never felt pressured in any of the 40 something houses we looked at. She was always available as well. We were looking at places almost daily.
Overall, I really felt that Kristen helped me to get into the perfect home. Her guidance and knowledge were priceless. I would definitely recommend Kristen to any of my friends, and will certainly be calling her in the future myself."
– Colin Proctor
---
"When you are a first time home buyer it can be very scary and overwhelming at first. However, from the moment we met Kristen Cramer I knew that we were in good hands. What impressed me the most was her knowledge for every aspect of the home buying process from start to finish. Her constant attention made you feel as if you were her only client… which we knew was not the case! She always answered her questions with her honest and professional opinion.
I would recommend Kristen to anyone who not only wants to have a great experience buying a house, who doesn't want to feel pressured into any quick decisions, and who is determined to find the home of their dreams. She also gave us great referrals for everything you might need when owning your own home from plumbers to landscapers. I will be coming back to Kristen with every future home-buying venture.
Kristen is trustworthy, professional, knowledgeable, helpful, engaging, and works hard to find you what you're looking for in a home."
– Genessa Ottomann
---
"Kristen is the ultimate professional. She has a superlative work ethic. Our family has come to rely on her on more than one occasion with regard to selling our home and assessing its value. Kristen is trustworthy and gives insightful feedback while getting the job done."
– Diana Naramore
---
"Kristen has a detailed knowledge of neighborhoods and things to look for when buying or selling a home. She worked tirelessly to meet our demanding needs and was huge asset as we negotiated complicated real estate processes. We've worked with her three times and recommended her to others."
– Tobias Lutterodt
---
"Kristen has been my real estate agent for more than ten years. She worked with me closely in buying my current house in the Ballard area of Seattle which has been the best investment I've ever made. She has also continually supported my wife and I with advice on market conditions, home values, and service referrals for home repair and improvements. She is a very knowledgeable professional and also a pleasure to work with. We plan to work with her on buying our next property as well."
– Chad Richardson
---
"Kristen Cramer is a true professional. I have hired her on more than one occasion and I am always impressed with her ability to provide a service above and beyond her peers. I recommend her without hesitation."
– Aaron A. Pelley
---
"Kristen has helped me both buy and sell more than one house. She has great knowledge of the real estate market and is wonderful to work with. Highly professional in all of her dealings. I plan to work with her again in the future."
– Autumn Stensen
---
"Kristen made my first time home buying experience fun and enjoyable. She never pressured me to purchase anything than the perfect home. She was quite literally with me every step of the way. Her passion and knowledge shine. I cannot endorse her enough. She is first and last person I will go to for real estate."
– Ward Vuillemot
---
"Please consider this as our letter of recommendation for Kristen Cramer. She assisted us with the purchasing of our first house in 2000, so when it came time for us to sell and buy again, we called her. We have been very impressed with the services she has provided us. We felt like she was truly looking out for our best interests and came up with a lot of creative ideas.
We will ask Kristen to assist us with any of our future real estate needs and would not hesitate to recommend her to our friends and family."
– Aaron and Michelle Page
---
"After an extensive search for a realtor to list and sell my Seattle home, I selected Kristen Cramer from Lake & Company. This turned out to be a wonderful decision.
I cannot praise enough her hard work and commitment to help me sell my home. Pricing your home for sale is a critical step and Kristen did market research that far exceeded what I received from Windermere and Remax, the other 2 agencies I was considering. Once we correctly priced the house for maximum profit, Kristen worked with me to plan a strategy for a speedy sale. It worked perfect! Full price offer on the first day we were accepting offers.
As with any great undertaking, there can be obstacles and we had our fair share. Kristen was diligent at minimizing the impact on me and keeping the sale on track. She was particularly unwavering in her efforts to get a furnace replacement covered under warranty. Due strictly to her tireless work, I paid only $300 instead of $2200. I would have given up fighting the stalling tactics of the warranty company but she kept at it.
I highly recommend Kristen. She is the realtor you want on your side – – selling or buying. Not only for her years of experience but her honesty, determination and the sheer pleasure of working together. Always considerate, always informative and always on your side."
– Christine M. Ralph
---
"Our experience with Kristen over the last two years demonstrated her professional skills as well as her ability to adapt to all of the idiosyncrasies of a couple who had not purchased or sold a home in a very long time. Kristen was excellent at dealing with our issues as they were raised, but more importantly was able to educate us on the current market and all of the changes that have occurred over the last several years.
Her patience and skills at coming up with new ways of promoting our home in a constantly changing environment made the sale of our house much easier than it might have been. She states that her middle initial stands for "Service" and we truly believe that the designation more than applies to her in the way she operates as a professional Real Estate Advisor and Agent.
We would recommend her unequivocally as a buyer or seller representative as she demonstrates all of the skills necessary to an excellent Accredited Seller Representative."
– Ken and Peggy Wiltse
---
"Kristen Cramer was my Realtor during the sale of my old home and purchase of my new home in August/September of 2007. This was my first experience conducting a concurrent buy/sell and I needed a lot of coaching along the way. She was the consummate professional, providing expert guidance at every turn, making the experience much smoother than I could have ever anticipated.
When I first met Kristen, she came to my house prepared and ready to answer all of my questions about the selling and buying process. Her market analysis for my home was complete and gave me a realistic idea of what I could get for my home, and in turn, buy.
In about a month of searching we across the perfect home for me in the right location. The price was right and the house was going to move quickly, so we prepared an offer. There was a competing bid and she assisted me in making the offer that got me the house. She found me an amazing home inspector for the next day, and we finalized the deal in 24 hours.
When it came to selling my house she went above and beyond. She hired a staging consultant to do an initial consultation with me at my home to set me in the right direction. Due to the Labor Day holiday coming up, she advised me to not put the house on the market until after the first week in September to capture the pickup in activity after summer. She had professional photos taken, did a great write up of the place and even provided art and other items to finish the staging of the house. The price we set was what I wanted, and within 4 days of having the house on the market we had two full price offers. After holding out for one open house, we ended up getting $5,000 over asking.
Needless to say I was pleased and not just a little relieved that I didn't have to handle two mortgages. Following the sale, I had a request from the buyer to have the ducts cleaned. Kristen arranged for the cleaning, met them at the house and even paid for it up front so that I didn't have to worry about anything. In the final days of emptying the out my old house, I found that I had accumulated a lot of pant and other household hazardous wastes that I need to dispose of. Rather than me having to take time off from work, Kristen offered to pick it up and take it to eh local hazardous waste disposal for me. I can't imagine better customer service.
Not only would I use Kristen for my next move, I would not hesitate to refer her to anyone."
– Tanya Treat
---
"We are writing to give our highest recommendation for Kristen Cramer. We have worked with Kristen since 2005 and have been extremely impressed with her market knowledge, customer service and responsiveness.
Kristen helped us through three house transactions: the sale of two homes and the purchase of one.
On the sale of our Ballard home, Kristen was very thorough in her market analysis. She advised us on a fair market price design to entice potential buyers to visit the property. This strategy brought in 12 offers; all significantly above the asking price. We successfully listing and sold the house in less than a week. Kristen's expertise allowed us to secure top dollar for our home.
On the purchase of our Phinney Ridge home, Kristen worked with us on a daily basis showing us prospective homes. She was extremely flexible and was always available to preview homes throughout the day and evening. Kristen even managed the purchase of our new house as she underwent back surgery. Kristen never missed a beat. She made sure that everything was taken care of and in order. Kristen gave new meaning to the expression "beyond the call of duty."
Kirsten truly shined during the sale of our Lynnwood home. We put our house on the market just as things began to switch up. It was a very stressful time. Daily media reports encouraged potential buyers to sit on the fence. Consequently, Kristen had to deal with flakey agents, unrealistic buyers and low ball offers. For nine months, Kristen was undeterred. She was positive, determined and always encouraging – even as we grew increasingly skeptical that we would ever find a buyer! Kristen pulled out all the stops and helped us to get the best possible offer in a soft market. We were very grateful to have Kristen on our side.
Selling and buying homes is a challenging experience even during the best market conditions. It takes a very talented and accomplished professional to navigate the twists and turns in the market. We feel that Kristen proved us that and much more. We really enjoyed working with her and would recommend Kristen's services without question!"
– Anne Keeney and Daniel Erickson
---
"The Board of Directors of ICA-USA wish to extend our heartfelt appreciation for your excellent service recently in successfully selling our unique office condo property in Seattle. The high quality of your work was the subject of an upbeat discussion this weekend at our December Board meeting. Your advice and counsel in marketing our property proved insightful and right-on-the-money. Your patience and persistence in promoting and re-promoting our property made all the difference.
In the end, the sale could not have occurred at a better time for the interests of ICA-USA. Thank you for your top notch work on our behalf."
– Richard Wilkinson, President ICA – USA Board of Directors